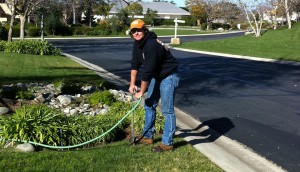 Having the expertise and equipment to perform deep root fertilization through Plant Rx (a division of Kastle Kare) means we can provide a valuable service for your property. Frequently we are able to save our customers $2,000 – $60,000 in replacement tree costs by providing Deep Root Fertilization as the cost to maintain your trees in good health is minimal compared to the cost in tree replacement.
Many trees on your property may be suffering, and we can help you to recognize the characteristics of this, as well as come up with a treatment regimen. When deep root fertilization (giving much needed nutrients to the source) is applied to an unhealthy tree, you will quickly see it come back to life and become a vibrant, healthy tree again.
Deep root fertilization can be done as a one-time treatment or on a routine basis when recommended.
Professional Consultation
We will arrange for one of our courteous and friendly technicians to provide you with an on-site inspection and consultation of your landscape or estate grounds. This will enable us to identify the areas that need treatment and a regular maintenance plan. The consultation fee is dependent on the service area, but will be deducted off the cost of the treatment.